Views: 98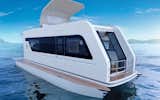 Labor Day weekend and the summer travel season may be in the rearview mirror, but one new concept isn't ready to wave goodbye to warm-weather fun. The Caracat, an RV idea from the Heidelberg, Germany-based company of the same name in partnership with Schneider Caravaning, is a travel trailer–catamaran hybrid meant to take you from country roads to lakeside campsites—and directly onto the water.
The design's primary innovation is its deployable pontoons. With them tucked under, in theory, the Caracat's slender profile would make it easy to be tow down backcountry roads. With the pontoons extended, the craft would become a vessel with double hulls like a catamaran, increasing its stability threefold when compared to a design without, says the manufacturer, since it would both raise the vessel off the water and widen its footprint.
Apparently it's why double hulls are favored by everyone from America's Cup racers to Lake Tahoe leisure-boaters.
The best version of the transforming RV, if built, will be when it's on the water.
When deployed, the pontoons are designed to become decking that meet more deck at the bow and stern to create a wrap-around patio. A portion of the roof would be able to open to expand the ceilings, while the other side of the roof would offer additional covered seating space.
A ride aboard a Caracat would offer a luxe stay. The design includes teak-surfaced built-in furniture, flat-screen TVs, and a granite-finished bathroom and kitchen. Also depicted are comforts like heating and air conditioning, and a solar-powered refrigerator and wine cooler for storing beverages while on water or land.
As slick as the Caracat seems, it's not the first watercraft designed to be slipped back onto its boat trailer and slept in like an RV. The Sealander, a teardrop sleeper with a hatch, can be towed to waters edge and sent out to sea, so to speak. That design came out more than a decade ago.
The Caracat's plans and renderings, however, don't just look roomier than the Sealander; they show actual rooms. The company says the largest model is 28-feet long—it plans to offer three different sizes—and will be large enough to comfortably fit six.
Make no mistake: the Caracat isn't designed to go fast. The company says solar panels will power an 8-horsepower electric motor. But buyers will have the option to upgrade to a 25-horsepower diesel inboard engine, should they desire an extra boost. Chances are, if you're the leisure type, the as-is design will be just your speed.
Prices aren't listed at Caracat's website, but at the recent Dusseldorf Caravan Salon, a representative from the company told New Atlas that the entry-level model—the smallest—retails for €130,000, or roughly $129,500.
Related Reading: