Views: 351
Weekend Exclusive News / The 5 best destinations you can visit on a Carnival Cruise Line ship / By Gene Sloan / thepointsguy.com

This post contains references to products from one or more of our advertisers. We may receive compensation when you click on links to those products. Terms apply to the offers listed on this page. For an explanation of our Advertising Policy, visit this page.
Some cruise lines offer voyages to every corner of the world. Others are more focused on where they operate.
Carnival Cruise Line, one of the world's largest cruise brands, is firmly in the second category.
Carnival is all about relatively short, affordable cruises from U.S. ports. You'll find at least one of its ships sailing out of pretty much every major port city around the country, but it's rare to find them based anywhere else.
For more cruise guides, news and tips, sign up for TPG's cruise newsletter.
Catering heavily to budget travelers who reach its ships by car, Carnival only rarely offers voyages in Europe, Asia and South America — destinations that are much more integral to the schedules of such rival lines as Royal Caribbean, Princess Cruises and Holland America.
However, Carnival is the undisputed leader in cruises out of U.S. ports to the Caribbean and Bahamas, with a wide range of sailings to the regions from ports on the East Coast and along the Gulf of Mexico.
Some of Carnival's East Coast-based ships also sail to Bermuda, New England and Canada. For Carnival ships based on the West Coast, sailings to Mexico, Hawaii and Alaska are the norm.
Carnival also offers some Panama Canal voyages.
The overarching idea for Carnival's ship deployments is that a large percentage of the U.S. population can reach one of the line's ships by car, saving the cost of flights. For that reason, it takes a much broader approach to ship deployments around the U.S. than other lines.
Carnival's biggest operations are out of PortMiami and Port Canaveral in Florida; Galveston, Texas; Long Beach, California; and New Orleans — all major cruise hubs. You'll also find Carnival ships in secondary cruise ship ports such as Baltimore; Charleston, South Carolina; Mobile, Alabama; and Jacksonville, Florida.
For the most part, Carnival ships sail relatively short voyages of three to eight nights.
Here's our take on the five best places Carnival sails.
The Caribbean and Bahamas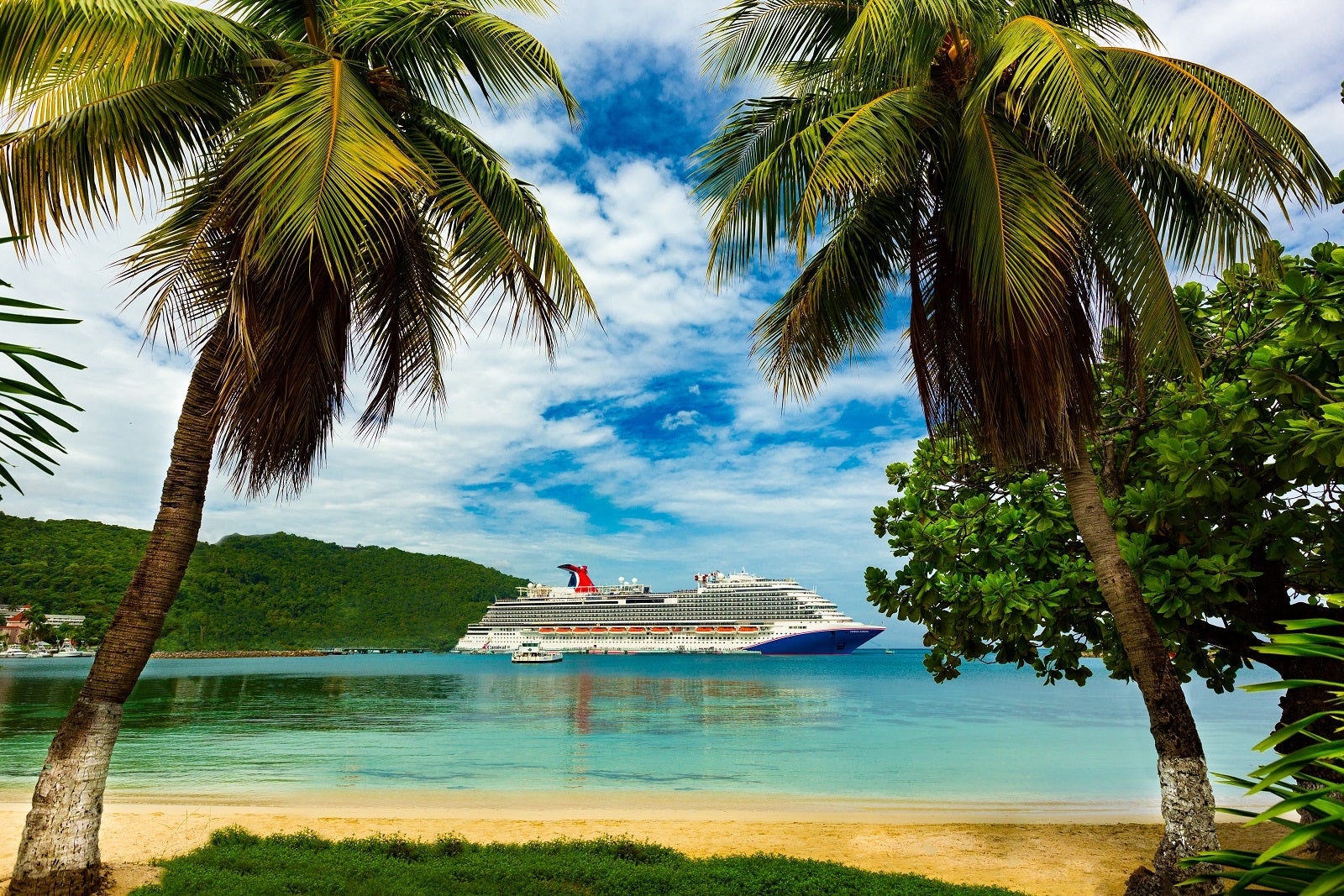 Carnival Horizon. CARNIVAL CRUISE LINE
Carnival is, quite simply, the king of Caribbean and Bahamas cruises. If you're looking for a quick, easy and — perhaps most importantly — very affordable cruise getaway to the region, Carnival is your line.
Carnival currently has 19 of its 25 ships scheduled to sail to the Caribbean and the Bahamas for at least part of the coming year, including its newest and biggest ships, the 5,282-passenger Mardi Gras and sister vessel Carnival Celebration.
To put that in perspective, that's more ships than exist in the entire fleet of Norwegian Cruise Line, which itself is a major player in Caribbean cruises.
Carnival offers a broad range of Caribbean and Bahamas itineraries from no fewer than 11 U.S. ports.
If you're looking for something short, the line has you covered in the form of quick three- to five-night trips to the Caribbean and the Bahamas from Florida ports such as Miami, Tampa, Jacksonville and Port Canaveral, as well as from Mobile, Alabama; New Orleans; and Galveston, Texas.
From the Eastern ports, these itineraries often focus on stops in the Bahamas and Grand Turk Island. From the Gulf ports, they often focus heavily on the ports of Mexico's Yucatan Peninsula, including Cozumel and Progreso.
Carnival is also big in the market for six- to eight-night sailings to Caribbean and Bahamas ports, which break down into three broad categories:
A typical seven-night Carnival sailing to the Eastern Caribbean includes stops in San Juan, Puerto Rico; St. Thomas, U.S. Virgin Islands; Amber Cove, Dominican Republic; and Grand Turk in the Turks and Caicos.
However, each of Carnival's six- to eight-night Eastern Caribbean itineraries is a little different. There are typically three and sometimes four calls on these Eastern Caribbean cruises.
Carnival's six- to eight-night Western Caribbean voyages will typically include three or four stops in some mix of the following destinations: Mexico (Cozumel and Costa Maya), Honduras, Jamaica, Grand Cayman and Belize.
The line's Southern Caribbean itineraries — typically eight nights in length — will often bring visits to Aruba and Curaçao, as well as one or more northerly Caribbean ports such as Amber Cove in the Dominican Republic.
Carnival also offers a handful of longer, 10- to 14-night sailings in the Caribbean, but not many.
The Mexican Rivieras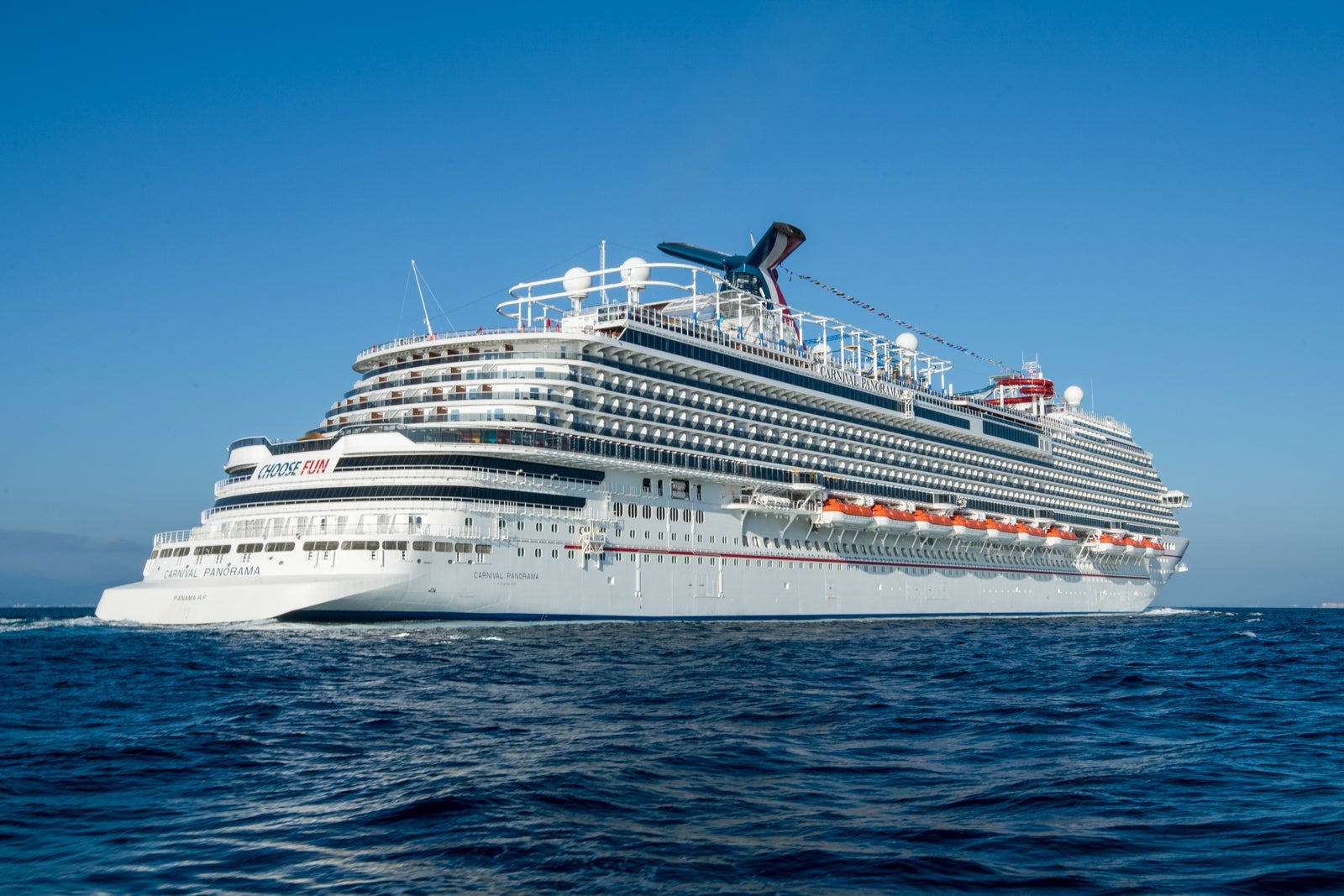 The 4,008-passenger Carnival Panorama sails to Mexico out of Long Beach, California. CARNIVAL CRUISE LINE
Carnival is one of the leaders in cruises to the Mexican Riviera — the string of resort towns running down the west coast of Mexico.
Carnival operates cruises to the west coast of Mexico out of the California ports of Long Beach and San Francisco, with Long Beach being its main West Coast hub.
Notably, Carnival is the only cruise line to base ships in Long Beach year-round for voyages to Mexico. One of the line's newest vessels, the 4,008-passenger Carnival Panorama, is based year-round in Long Beach for seven-night Mexican Riviera voyages. The smaller, 2,764-passenger Carnival Radiance operates three- and four-night trips out of Long Beach year-round to Mexico.
A third Carnival ship, the 2,124-passenger Carnival Miracle, operates four- and five-night sailings to Mexico out of Long Beach on a seasonal basis during the winter and also offers some Mexican Riviera cruises out of San Francisco.
In addition, a fourth Carnival ship — the not-yet-in-the-fleet Carnival Firenze — will begin sailing four- and five-night cruises to Mexico out of Los Angeles in May 2024.
The typical seven-night Carnival voyage to the Mexican Riviera brings stops in Cabo San Lucas, Mazatlán and Puerto Vallarta.
Three- and four-night Carnival trips to the west coast of Mexico typically only feature a single Mexico call in Ensenada and, at times, a stop at Catalina Island off the coast of California.
Alaska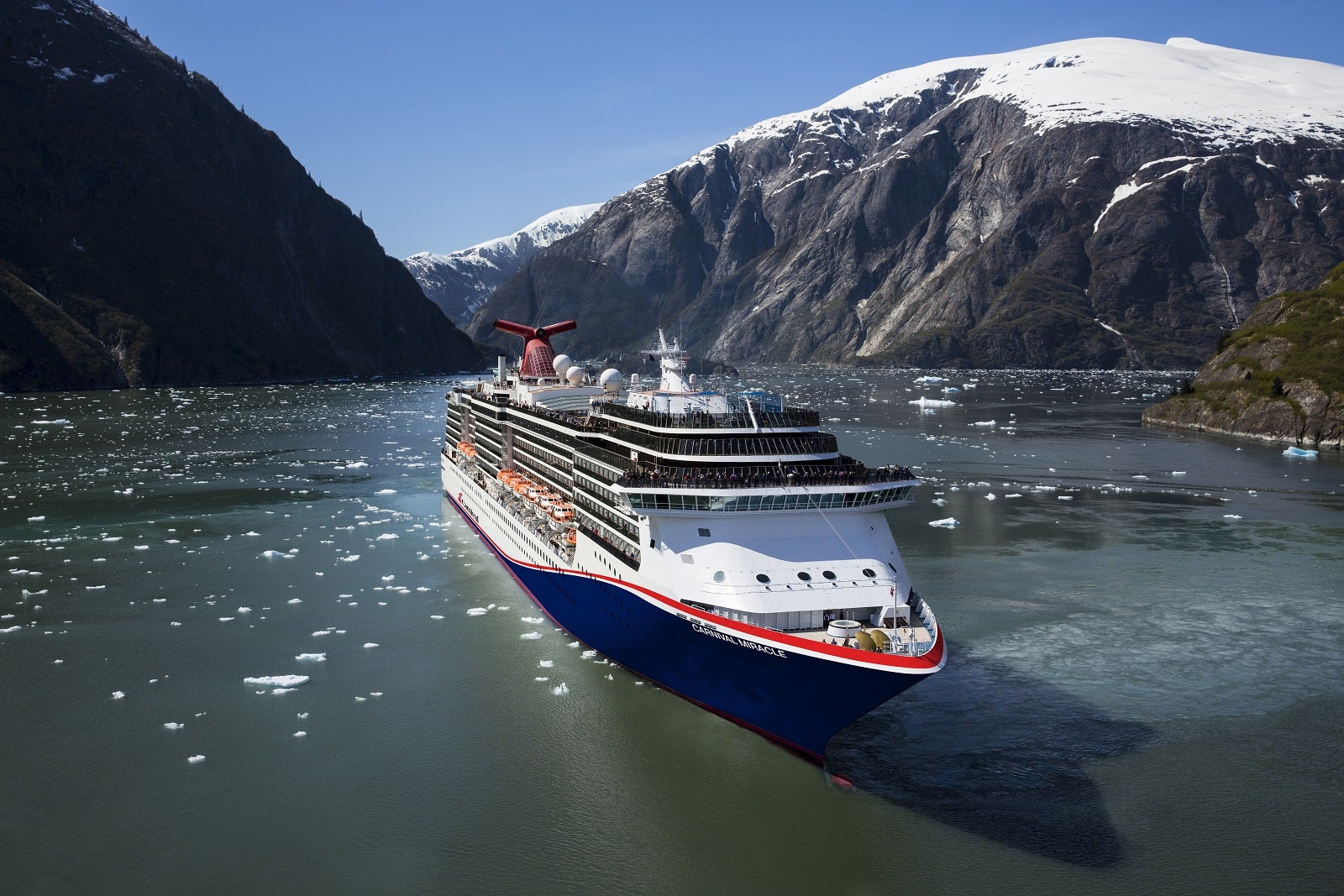 Carnival Miracle. CARNIVAL CRUISE LINE
Carnival isn't the biggest player in Alaska cruises. The giants of cruising to Alaska are Princess Cruises and Holland America, which are sister lines to Carnival that control a large percentage of the market. Still, Carnival has sent more vessels to Alaska in recent years than in the past, and for 2023, it has three ships sailing to the destination.
Carnival's fun-focused, affordable ships are a popular pick with families looking to visit Alaska during the short Alaska cruise season, which lasts roughly from May to September.
For 2023, Carnival has deployed the following ships to the Alaska market:
Carnival Luminosa: The 14-year-old vessel is mostly operating seven-night voyages to Alaska round-trip out of Seattle. Most departures feature calls at Skagway, Juneau and Ketchikan, Alaska; and Victoria, British Columbia. It also visits the Tracy Arm fjord in Alaska for glacier viewing. A few sailings have a slightly different line-up of ports.

Carnival Miracle: The 19-year-old vessel mostly operates 10-night voyages to Alaska round-trip out of San Francisco. It calls at Skagway, Juneau, Icy Strait Point in Alaska; and Victoria, British Columbia. It also visits Tracy Arm for glacier viewing.

Carnival Spirit: The 12-year-old vessel operates seven-night voyages to Alaska round-trip from Seattle. It calls at Skagway, Juneau and Ketchikan, Alaska; and Victoria, British Columbia. It also visits Tracy Arm for glacier viewing.
Unlike some lines such as Princess, Holland America and Royal Caribbean, Carnival does not offer Alaska "cruise tours" that combine an Alaska cruise with multiple days of overland touring.
Bermuda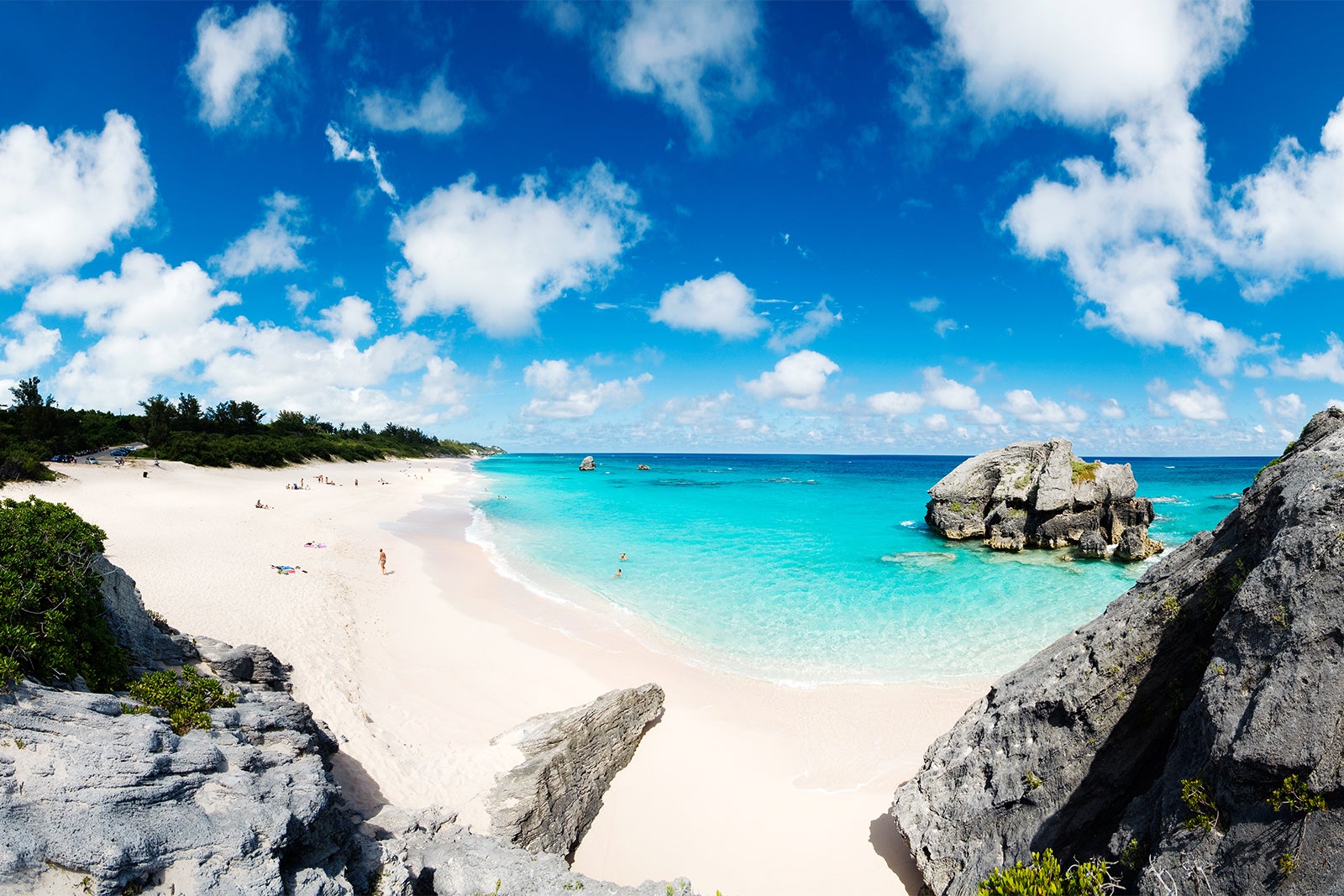 Warwick Beach in Bermuda. MASSIMO CALMONTE/GETTY IMAGES
At least a couple of Carnival ships typically sail to Bermuda every year between May and October.
While the line doesn't offer a huge number of Bermuda departures, it usually operates Bermuda trips out of at least three ports every year: New York, Baltimore and Norfolk, Virginia.
Most of the sailings are six nights in length and include two days in Bermuda. The line also typically offers a few shorter four- and five-night Bermuda sailings and, occasionally, a longer seven-night Bermuda sailing.
Note that the shorter Bermuda sailings can offer very little time in the country, sometimes as little as eight hours.
For 2023, Carnival is offering sailings to Bermuda on three ships: the 3,690-passenger Carnival Magic, the 2,124-passenger Carnival Legend and the 4,208-passenger Carnival Venezia. The latter ship is a Costa Cruises vessel that Carnival began operating in May 2023. Costa is a sister line to Carnival with similarly designed ships.
Australia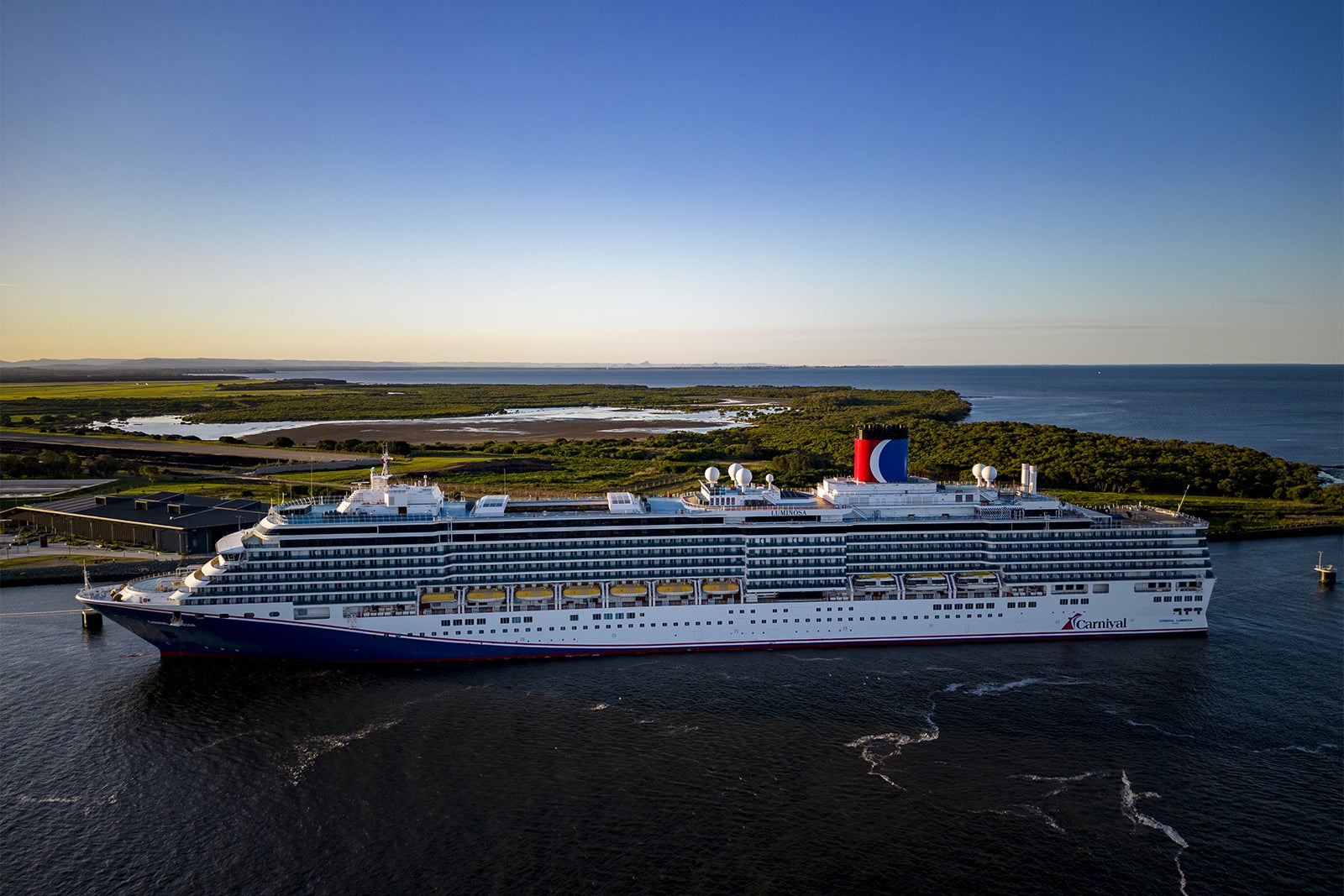 Carnival Luminosa in Brisbane, Australia. CARNIVAL CRUISE LINE
Carnival may be all about cruises from U.S. ports. However, not all its vessels always are based in North America.
In what might seem an unusual diversion for a line known for short, easy-to-reach, affordable voyages for Americans, Carnival, in recent years, has deployed two of its vessels to Australia to operate trips from Sydney and Brisbane.
The two ships — most recently the 2,260-passenger Carnival Luminosa and 3,012-passenger Carnival Splendor — typically operate a mix of three- to 10-night sailings along the Australian coast and to New Zealand.
Carnival's Australia trips, notably, aren't really aimed at Americans. They're aimed at Australians. A few years ago, Carnival discovered that Australians love the sort of fun-focused, affordable cruises it offers just as much as Americans, and it set out to build a business in Australia catering to them.
That doesn't mean an American can't book one of the trips.
The typical Carnival cruise along the coast of Australia includes stops at Airlie Beach, Cairns and Willis Island. Some longer Australia voyages add in stops at Port Douglas or Moreton Island.
Shorter Australia voyages might include a stop at just one of the above destinations or even no stops at all — a so-called "cruise to nowhere."
Bottom line
Carnival focuses heavily on cruises in North America.
If you're looking for a voyage to the Caribbean, Bahamas, Bermuda or the west coast of Mexico, you'll find an unparalleled array of choices from Carnival.
If a cruise vacation in Europe, Asia or South America is what you're after, you probably should focus on another line.
Planning a cruise? Start with these stories:
Weekend Exclusive News / The 5 best destinations you can visit on a Carnival Cruise Line ship / By Gene Sloan / thepointsguy.com
Pop your email address below to be notified of new posts by email. You can unsubscribed at any time, although I hope you won't!
[contact-form-7 id="1950″ title="Untitled"]